Well, the San Francisco Giants were eliminated from the postseason earlier this week. It ended the ridiculous even year streak the Giants were on (#BeliEVEN). I am not sure "streak" is an accurate description, though.
Fittingly, my next Zistle trade included a bunch of Giants. I reached out with a trade offer to Brandon, who collects Giants. We made a pretty quick trade and sent off our cards.
.
I received a bunch of Jeff Kent cards in this trade which makes sense as Kent had his best playing years with the Giants. I always think of Kent as a big loss for the Mets. He played well for the Mets, but the team was pretty terrible. He also wasn't known to have the best clubhouse reputation. Maybe he was bitter for being traded from the Blue Jays during the start of their back-to-back World Series wins.
Furthering the Giants connection, Edgardo Alfonzo also played for the Giants. His case is a bit different than Kent's. Alfonzo had his best years for the Mets and is beloved by Mets fans. He played pretty lousy for the Giants.
Marco Scutaro is another Giants connection from this trade. Marco made his MLB debut with the Mets in 2002. He spent some time with the Cleveland Indians and Milwaukee Brewers before that, but never reached the big leagues with either team. Scutaro bounced around from the Mets to the A's, Blue Jays, Red Sox, and Rockies. In 2012, he was traded to the Giants mid-season and helped the Giants win the NL West title. He went on to hit .500 in the NLCS, win NLCS MVP honors, and drive in the winning run in Game 4 of the World Series as the Giants swept the Detroit Tigers. Some may remember this image from the NLCS.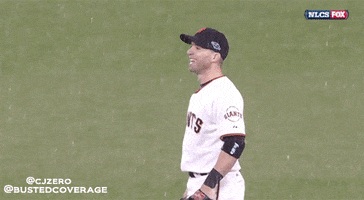 Overall, this was a solid trade! Thanks again, Brandon!